Here is an easy peasy recipe for a peanut butter cookie treat for your pup! One of the most basic and most popular flavors for every dog is peanut butter. Commonly used in interactive toys (think Kong) and to hide medicine, dogs will eat it up!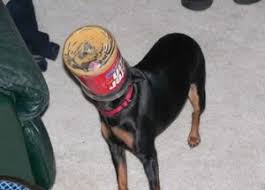 You will need:
2 cups whole wheat flour
1 and 1/2 teaspoons of baking powder
1/3 cup organic peanut butter
1 cup of hot water
1- Pre-heat oven to 375F
2-Mix together flour and baking powder in a bowl
3-In seperate bowl mix together peanut butter and hot water (could substitute skim milk). Slowly add in the dry mixture and see how it feels when all mixed together. If it seems wet add a little more flour, if it seems dry add more water.
4-Spready mixture out on the counter and roll it out to 1/4″ thickness
5-Cut the mix with a cookie cutter of whatever shape you desire and transfer to a cookie sheet!
These should take about 20 minutes until lightly brown. Remember to let them cool before handing one off to your pup!